Ceremony Music (background music for the various stages of the marriage ceremony).
Reception Coordinator (organizing details of your reception with your venue, photographer and videographer).
Reception Planner (announcing all formalities such as the cake cutting, toast, bouquet toss, first dance).
Reception Consultant (working with you, from the planning stages to the last dance of your reception).
Guest Motivators (involving your guests in activities and dances).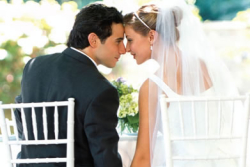 WeddingsAndParties DJ's......New Jerseys Top Disc Jockeys!!
Not like typical Wedding DJ's, WeddingsAndParties DJ's are your choice for tasteful sophistication. Feel confident that your event will be handled with expertise, style and professionalism, leaving you free to relax and enjoy this time with your guests. Months before your wedding, WeddingsAndParties Entertainment provides complete Event Coordination via phone calls, e-mails and in-person consultations. You will also enjoy using top-rate online wedding planning tools with access to our music database (with over 80,000 songs) and more...


When selecting a dj for your wedding, keep in mind that not all djs for weddings are created equally. Before you hire a wedding dj, you'll want to know that the dj has plenty of experience. Your wedding is no time for a disc jockey to figure out how to dj a wedding. WeddingsAndParties DJ's are professional wedding dj's. For every style of event; Classy, Understated Elegance, a High-Energy Night Club-like atmosphere, or something in between, we understand how to bring your vision to life. Our team specializes in bridging the gap between the 'Club DJ' and the 'Traditional Wedding DJ' experience.

Your big day deserves a wedding dj willing to offer a contract of services. This is no time to be left high and dry at the last minute if your dj gets ill or cannot make the event due to some emergency. A contract also guarantees how much the wedding dj will cost. Your wedding dj will list everything he or she is providing and everything that they expect from you. In addition, you will want to personally meet the dj and see if your personalities are compatible, after all - they will be coordinating the most important time of your life, in front of possibly hundreds of family members and friends. You will probably spend many hours pre-wedding day selecting music and planning the reception. You will obviously be spending no less than four or five hours with that same dj the day of the wedding, so make sure you like them!

The wedding dj should also have the music you request and plenty of other music on hand to ensure that they can please your audience and keep your guests on the dance floor and having a good time. The wedding dj price is not always a direct reflection of the quality of the dj service either. There are wedding dj prices which are low and wedding dj prices that are high... Neither is a good indicator of the quality or commitment you will receive from that wedding dj service. Not all wedding dj services are the same. You will want a wedding dj that not only has the songs you want, but a highly experienced and professional wedding reception dj, regardless of the size of your event. Finding the right wedding DJ is not an area to skimp on and should be a major focus of your wedding planning.